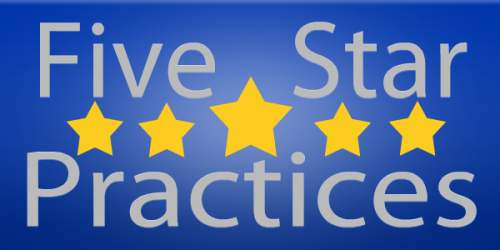 Our Five Star Practices Reputation Suite is the Top of its class, just like your practice.

We know that you work hard every day from the front of the practice to in the rooms with your patients to build a good reputation in the community.

Many times, that positive reputation can quickly become tarnished online by one unsatisfied patient, sometimes, an angry former employee, or even competitors posting false and negative reviews about your practice.

That's why being proactive about building a good reputation online and growing that 5 Star Reputation your practice deserves has become critical to your marketing efforts and something you don't want to leave to chance ~ it is too costly not to.You can trust in us to to help you build, promote and manage your 5 Star Online Reputation.
Increase in New Patients
Online reviews build trust and 90% of patients trust online reviews. ~ Forrester
Positive Reviews = Trustworthy
97% of consumers who made a purchase decision based on an online review found the review to be accurate.  ~ The Kelsey Group
Onlilne Reviews Build Trust
72% of patients say positive reviews make them trust the practice more. 
Practices are Judged
Patients read your reviews and your competitors - they they pick up the phone to make an appointment. 
Book More Appointments
Yelp stated that 19% growth in business was noted with an increase in your Online Reputation. 
5 Star Reviews = Winner
Stop losing new patients to your competitors.  The practice with a Higher 5 Star Rating gets MORE calls.